Transform your employee experience with Dynamics 365 for Talent
Hire, onboard, and retain people who can deliver impactful results. Microsoft Dynamics 365 for Talent empowers your HR team and people managers with the tools they need to land top candidates and accelerate their success.

Respect Solutions will help you automate and simplify core HR processes using Microsoft's Dynamics 365 for Talent solution.

We can provide real-time personnel management tools and transform your recruitment and on-boarding processes, so that everyone in your HR team can work more efficiently to deliver a highly professional service.
Hire the right people, faster
Enable collaborative recruiting
Connect recruiters, hiring managers, and interviewers, and share candidate profiles and communications by using Dynamics 365 for Talent with LinkedIn Recruiter.
Boost win rates
Deliver an engaging candidate experience by allowing people to use their LinkedIn profile to apply for open roles and communicate through a portal that offers guidance and transparency every step of the way.
Increase quality of hire
Empower hiring managers to take ownership of the selection process with visibility into candidate profiles, assessment tools, artificial intelligence recommendations, interviewer assignments, simplified interview scheduling, mobile feedback, and comprehensive offer management.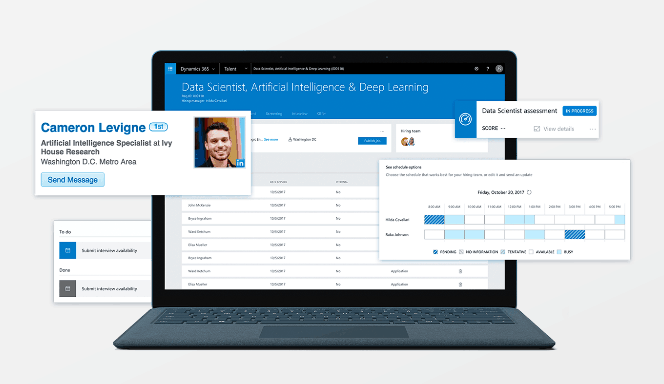 Accelerate time to hire
Reach top candidates by posting jobs to popular talent marketplaces, quickly creating a company career site to advertise open roles, and using signals from Office 365, Azure Active Directory, and HR systems to improve internal mobility.
Set employees up for success
Elevate onboarding
Welcome new hires with personalized onboarding processes and checklists that streamline administrative tasks and help deliver a memorable first day experience.
Accelerate impact
Ensure employees have clearly defined roles, responsibilities, and objectives to help them stay focused on impactful priorities with a centralized location for resources.
Facilitate employee feedback
Provide ongoing feedback and reward high performers by turning performance into two-way conversation between employees and managers.
Gain performance insights
View real-time performance dashboards, and track accomplishments. Offer visibility through performance journals, real-time feedback, and goal management.
Ensure success
Monitor progress along the way with an outline of key performance indicators, and provide opportunities for feedback. Replicate successful onboarding experiences by saving guides as templates for specific roles.
Drive operational excellence and impact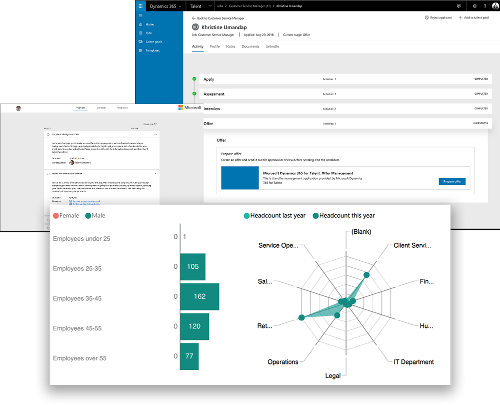 Maximize strategic impact
Improve business impact, and drive an agile, high-performance culture by automating routine HR tasks, such as benefits, compensation, and leave and absence, so your team can focus on strategic initiatives.
Centralize employee profiles
Create centralized employee profiles that highlight skills and experiences, using Microsoft Office 365 and LinkedIn data to get a 360-degree view of your people.
Minimize compliance risk
Get visibility across your global organization, and minimize compliance risk with simplified employee verification, worker accommodations, local regulation support, and health and safety requirements.
Manage people analytics
Get the right insights for the right action to improve your workforce planning. Reduce reporting complexities to transform, analyze, and visualize your people data in rich dashboards available on any device.